The Office of Emergency Management (OEM) facilitates emergency preparedness and response at Yale. This includes the development, training and exercising of Yale's Emergency Operations Plan, the Yale Alert system, and business continuity plans. OEM also coordinates the Emergency Operations Team (EOT). The EOT includes over 60 Yale administrators, which meet on a monthly basis to participate and practice drills and tabletop exercises. Officials from the City of New Haven, Yale New Haven Hospital, and West Haven, also participate in these meetings and exercises. The Emergency Operations Team has drilled on emergencies including a major explosion and chemical release, a fire in a residential facility, a mass casualty event on campus and international travel during a flu pandemic.
Members of the team include representatives from: Business Operations, Dining, Environmental Health and Safety, Facilities, Graduate Housing, Human Resources, ITS, Medical School, Office of Fire Code Compliance, Office of Public Affairs and Communications, Office of Sustainability, Office of the Vice President, President's Office, Procurement, Provost Office, Registrar's Office, Resources Office on Disabilities, Risk Management, Security Systems and Operations, Transportation, West Campus, Yale College, Yale Health, Yale Police, Yale Printing and Publishing and the Yale Medical Group.
About the Emergency Operations Center (EOC)
The Emergency Operations Center (EOC) is capable of activating at a moment's notices 24/7 in any major emergency. The Senior Vice President for Operations and the Vice President for Human Resources and Administration activate the EOC. Depending on the type of emergency, the EOC would direct evacuations, temporary housing, business continuity, and all emergency services. The EOC would also oversee internal communications, logistics, and interactions with the press.
OEM also provides emergency preparedness training to members of the Yale community. Our trainings are tailored to the needs of the departments but generally include preparedness information personal preparedness on campus and at home.
Who We Are
The Office of Emergency Management is staffed by Maria Bouffard, Director and Stephen Woods, Manager of Business Continuity Programs.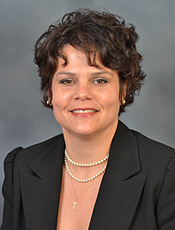 Maria L. Bouffard, CEM, CBCP
Director of Emergency Management
Maria L. Bouffard is the Director of Emergency Management at Yale University, a position she has held since December 2008. Maria has the responsibility of emergency preparedness and planning, as well as coordinating and organizing a team of university leaders during a crisis.
Maria began her career in the field of emergency management and disaster response in 1997 with the Connecticut  Chapter of the American Red Cross. In 2003, she moved to Houston for a position with the National American Red Cross supporting disaster relief operations in Arkansas, Louisiana, New Mexico, Oklahoma and Texas. In 2007, she became the Response, Planning Supervisor where she led the hurricane planning program for the Red Cross Chapters in Texas and Louisiana. Her field experience includes deployments to New York City on Sept 11, and Hurricanes Katrina, Rita and Ike and Maria.
Maria also served as the Planning Chief and Administrator for the Connecticut-West Incident Management Team. Maria holds a Bachelor's degree from Emerson College in Boston, MA. She is a Certified Emergency Manager (CEM) through the International Association of Emergency Managers and is a Certified Business Continuity Planner (CBCP) through Disaster Recovery Institute International. She is also a graduate and instructor of FEMA's Professional Emergency Management Academy.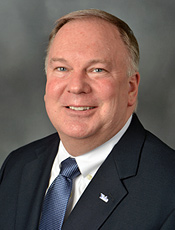 Stephen M. Woods, CBCP
Associate Director of Emergency Management
Stephen M. Woods joined Yale University in 2013. He is responsible for developing plans and procedures to support business continuity planning and mitigation strategies at Yale.
Steve has over twenty years of experience with emergency management, disaster preparedness, and response. Before coming to Yale, Steve served as Sr. Director for Emergency Services for the CT Chapter of the American Red Cross. His field experience includes deployments to hurricane Katrina, Joplin, MO tornadoes, and the Sandy Hook elementary school tragedy.
Steve holds a BA in Psychology from Franklin Pierce College and a MA in Human Behavior/Organizational Leadership from National University.
Jennifer C. Nolan, M.S.
Jennifer, joined Yale University in July 2017. As the Program Manager for Emergency Management, she is responsible for emergency preparedness and response planning, as well as facilitating annual updates, training and exercises of response plans. 
Jennifer's joins Yale with 6 years of emergency management experience. Before coming to Yale, Jennifer was a Business Continuity Specialist with two global corporations in Connecticut. Her experience extends beyond planning to include EOC activations for Hurricane Sandy and Irene, where she supported staff deployments and maintained situational awareness for the units throughout the activation. 
Jennifer also serves as a Planning Section member for the Connecticut – West Incident Management Team. Jennifer holds dual BS degrees in Criminal Justice and Fire Science and an MS in Emergency Management from the University of New Haven, CT.